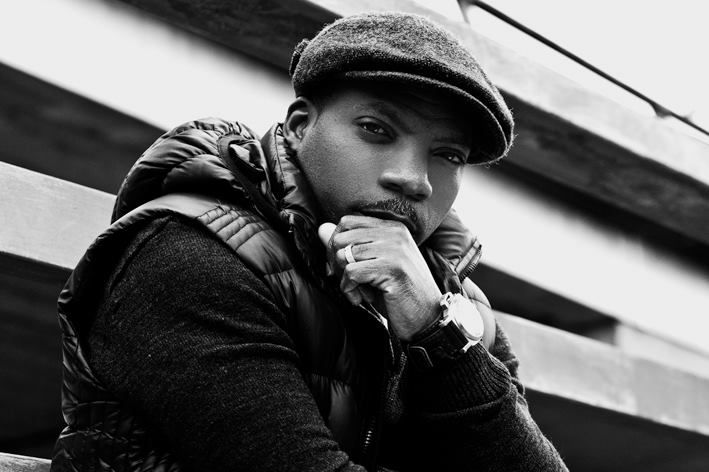 Take us back to the beginning in Jamaica. How did you get started with music? Who and what were your biggest influences? 
It really started in the U.K. before I moved to Jamaica between the ages of 5 - 9 years of age. I was listening to artists like The Police, Blondie, Boney M and Hot Chocolate at this stage. I also started singing in the playground and this became the norm at break and lunch time. Then I moved to Jamaica and became influenced by artists like Barrington Levy, Eddie Fitzroy, Dennis Brown, Leroy Smart, Freddie McGregor, Uncle Yagga GB, Flashy B, Paragon and Captain Dick from my local sound system in Small Axe in St Catherine Jamaica. I continued singing in the playground and drawing a crowd there too and this inspired me to keep singing. 
What was the scene like when you first moved to London? 
I moved from Jamaica to London in the summer of 1990, just before my 19th Birthday. There was a thriving underground Dancehall movement in the UK at the time. Reggae/Dancehall and Lovers Rock were very strong at this point musically and culturally. It was influential in terms of impact it was having on youth culture as well as musically. There were great artists from Jamaica and great artists from the U.K. representing the genres admirably. 
A vintage clip of you was recently circulating I believe from a French Documentary on Jungle and you were with UK Apachi , can you take us back to that moment and what the music was like then? 
That was a turning point in my career I guess. I had always loved a range of genres and sang across the board Reggae, Dancehall, R&B, Lovers Rock but this new sound called Jungle was very alien to me and it took me a while to connect with it. I couldn't get my head around the erratic drum patterns but two songs helped me understand Jungle 'I'm A Junglist' by Congo Natty Ft. Peter Bouncer and 'Sound Murderer' by Remarc. 
How did you originally link up with SHY FX for some of those earlier recordings? 
I linked up with Shy FX in about 1993/4 through my friendship with UK Apachi (we were best friends at the time).  Apachi and I were performing dancehall then and Apachi heard a track called 'Gangsta Kid' by Shy Fx and Gunsmoke. He loved the track especially the music behind the vocal. Our Manager Sam Carrol got in touch with Shy Fx's record label manager Dave Stone and Apachi did a vocal over the instrumental of 'Gangsta Kid' and 'Original Nuttah' was born. 
How has the Jungle/Drum & Bass scene evolved from the early days and what do you think is next? 
It's hard for me to say how it's evolved to be honest as I've never really been in the scene. I've been around it and I've contributed to it, but I feel like I've never fit into any of the boxes created to house Jungle or Drum & Bass.
One thing I can say is Jungle was something that unified all cultures black, white, gay, straight, rich, poor back then. It was refreshing, powerful and amazing when I started recording in 1993.
I've seen it go from Jungle to Drum & Bass to the range of sub genres and seen a range of different people access the scene. 
Who are your favorite reggae artists? 
Wow difficult question! 
So this is Reggae not dancehall: Dennis Brown, Beres Hammond, Barrington Levy, Sanchez, John Holt and Johnny Clarke to name a few.
What do you like to do when you are not making or playing music? 
I like to empower others and I can expand on this more in the next question. 
Tell us a bit about Forward Ever Education? 
I have been working with Children/Young People in a Youth and Community capacity for 29 years now. For the majority of this time I have worked mainly with Youth at risk of involvement in crime, substance misuse and a range of behaviours that would be described as challenging. Forward Ever Inclusive Education CIC is a Community Interest Company that I established in 2019. It is dedicated to improving the lives of Children/Young People by providing mentoring, creative workshops and alternative education services to them. We also provide CPD certified training and Consultancy to staff/organisations that engage with Children/Young People (especially those that are at risk) 
I just want to provide opportunities for Children/Young People to realise their full potential. 
One World Many Cultures was a seminal album, tell us a bit about the creation of the album and the tours to follow? 
"One World Many Cultures" is my debut album that was released on V Recordings in 2013. It took a while to pull it together and it was the first multi-genre album to be released on V Recordings. Bryan G the label boss helped me a great deal pulling this together and I am really proud of it. Lots of genres (Jungle, Drum & Bass, Dubstep, Reggae, Dancehall and R&B). Lots of features such as: Tenor Fly, Harry Shotta, YT, Solo Banton and lots of Producers too. It was nominated for album of the year against a load of mainstream albums the year it was released. It didn't win but at least it was considered (LOL) 
Your music often has a deeper message, what was the inspiration for the lyrics on "Nuff of Dem"? 
Nuff Of Dem is a track is I wrote for a reggae instrumental the original is yet to be released but Ted Ganung did a remix which is out on Deeper Vision Recordings (the original is coming soon). I always write to music so the music actually tells me what to write. I guess I was thinking about Political Leaders and Influencers across the world that create situations for their own benefit at the expense of the people they should be serving. If you listen to the track you will see what I mean. 
Similarly, what inspired the message for "Take Your Time"? 
That track was literally written in five minutes and again the music spoke to me and guided the delivery of the lyrics. At this time I was thinking about how important the choices we make are especially in a time where we are being coerced into doing so many things that are not logical. 
I've always said in most cases the majority of us in this world have a choice even in difficult situations. The choices may not be great but there is usually a choice and the choices we make determine the life we create for ourselves. "We create our own narrative." 
I saw a quote that said "Life Is The Sum of All Your Choices" and that really resonated with me. 
What projects should we be on the lookout for from the Forward Ever label? 
I'm glad you asked that question as Forward Ever is sleeping now because I have launched a new Record Label with my brother Navigator and Colleague P Skinna. We have a lot of music coming and all kinds of genres: Reggae, Dancehall, Jungle, Drum & Bass & R&B. We have already released some Dancehall singles on our Ghetto Strugglaz Riddim produced by Mixmaster J & P Skinna and we have another Dancehall release produced by P Skinna with vocals from Navigator and I dropping in May 2021 called "Friends." After that we will be releasing an EP produced by Benny Page with vocals from Navigator and I and there is plenty more on the way from us including our live act 'First Among Equalz.' 
Thanks for taking some time to share some history with us, where can people catch you performing/live-streaming next? 
Navi and I have been doing numerous live streams over the last 12 months and we expect there will be more on the way. We are looking forward to take the live act to live streaming.